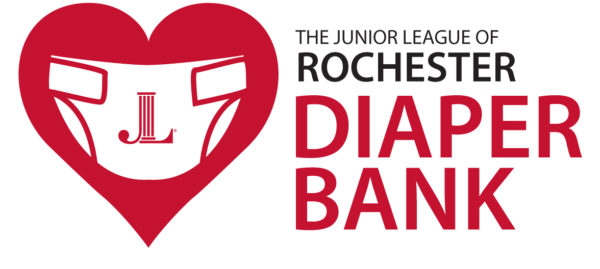 The Junior League of Rochester (JLR) Diaper Bank addresses diaper need in Monroe County, as well as surrounding counties, by providing diapers and diapering supplies to partnership organizations and social workers. We collect diapers (including open packages and loose diapers), pull-ups, training pants, wipes, and diaper creams. We also collect monetary donations, which are used to purchase these supplies at deep discounts.
Currently, we are distributing 20,500 diapers per month to our partners.
How Can You Help?
Diaper need has a physical effect on children and a psychological effect on parents who are unable to provide this basic necessity for their children. If you would like to support the JLR Diaper Bank, please consider donating, hosting a diaper drive, or donating supplies at one of our many drop off locations.
Make a Monetary Donation (Tax-Deductible):
Your funds will go directly towards diaper bank operations, namely: purchasing diapers, wipes, and diaper cream that will be donated to non-profit partner agencies to distribute to individuals in need.
Host a Diaper Drive or Help Spread the Word!
​To learn more about how you can help, contact [email protected].
Drop off diapers and diapering supplies at any of the following locations:
Fairport Public Library
1 Fairport Village Landing
Fairport, NY 14450
Northwest YMCA
730 Long Pond Rd.
Rochester, NY 14612
Lori's Natural Foods Center
900 Jefferson Rd.
Rochester, NY 14623
The Hive
1387 Fairport Rd.
Suite 1000D
Fairport, NY 14450
ANH Wellness
The Laurelton Building
500 Helendale Rd #160
Rochester, NY 14609
Why Do We Need a Diaper Bank in Rochester?
Extreme Poverty Rates:
Rochester is the 4th poorest city in the country among the top 75 metropolitan areas, with a poverty rate of 32.8%. Additionally, 24% of those living above the poverty level in Rochester make an income that is too low to be considered self-sufficient.
Compared to similar cities of its size, Rochester:

has the highest rate of childhood poverty, with more than half of children living in poverty;
has the highest rate of extreme poverty (people living below 50 percent of the federal poverty level).
Lack of Government Assistance:
Diapers and wipes are NOT covered by any form of government assistance.
Babies require 6 to 12 diapers per day, and disposable diapers can cost as much as $70-$80 per month, per baby. Plus, wipes can cost an additional $30 or more, per month.
Diapers Are a Necessity:
Without an adequate supply of diapers, families are left with no choice but to keep their children in dirty diapers or to re-use soiled ones. Babies who remain in a soiled diaper too long are exposed to potential health risks, such as yeast and bacterial infections, and severe diaper rash.
Most childcare centers and early childhood education programs, including free and subsidized ones require parents to provide disposable diapers. Cloth diapers are not accepted at many childcare centers.
Parents in diaper need miss an average of 4 days of work per month.
Thank you for your support!

Certified Member
Helpful Resources: