Recipes so Good, They're Only in Print. Nearly Four Decades of Delish!
The Junior League of Rochester has published two celebrated cookbooks: Applehood & Motherpie and For Goodness Taste. Our cookbooks hold hundreds of timeless dishes straight from our members' recipe box, each meeting a rigorous vetting process for inclusion. From three-ingredient appetizers and make-ahead meals to show-stopping roasts and elegant entertaining, our recipes have been served in thousands of homes since 1981.
Heralded as "a cherished guide for anyone who cooks at home" by the Democrat & Chronicle, we are thrilled to reintroduce our cookbooks to a new generation of budding local foodies and their families.
In the Press:
Junior League of Rochester Cookbooks are woven into the American culinary tapestry and are frequently featured in the press. Notable media include:
Order your cookbook today! Share what you cook up with cookbooks@jlroch.org or tag us on Instagram @jrleagueroc
Purchasing your cookbooks through our website and our authorized retailers below are the only way proceeds will directly support the Junior League of Rochester:
The Op Shop (89 Charlotte Street, Rochester)
Western New York Welcome Center
Panache (1855 Monroe Ave, Rochester, NY 14618)
The Creator's Hand (1311 Mt Hope Ave, Rochester, NY 14620)
Finger Lakes Goods (40 Linden St, Geneva, NY 14456)
Are you a local retailer who is interested in selling Junior League Cookbooks? Email cookbooks@jlroch.org for more information about our current wholesale and consignment programs.
---
About Applehood & Motherpie
The Genesee Valley yields a rich harvest of produce. Perhaps most well known is the upstate apple in its many varieties. In this book, in addition to all types of cookery, you will find many recipes which feature the apple to its fullest potential. Every recipe in this book has been tested and retested and all achieved very high ratings. They were all evaluated for efficiency of preparation as well as excellence of taste.
Our Upstate New York area is a fruit belt abounding also in cherries, peaches, and grapes. Climatic conditions here provide the ideal growing environment for many vegetables as well and we lead the nation in producing cabbage for sauerkraut. The wine industry centered around our Finger Lakes is the U.S.A.'s second largest wine producer. Locally our population is mélange of urban, suburban and rural folk many of whom work for major U.S. corporations based in the Rochester area. Consequently, we are a melting pot for people who have been transferred from other parts of the country. They bring their cooking expertise to us, blend it with our local heritage, and achieve some of the delectables in this book.
Applehood & Motherpie was an inaugural inductee to the Walter S. McIllhenny Hall of Fame, an award recognizing the best community cookbooks across the United States.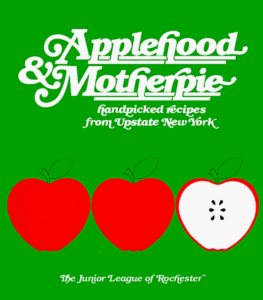 About For Goodness Taste
For Goodness Taste is a unique collection of existing recipes that reflect the rich flavor and cultural diversity of upstate New York life-styles, traditions, and geographic regions.
For Goodness Taste brings you more than 400 delicious recipes, with a tempting selection of ingredients ranging from garden fresh to processed fresh, accommodating today's contemporary trends and fast-paced schedules.
These wonderfully easy-to-prepare recipes are fresh and surprising, yet reliable and uncomplicated, following the tradition of our original best seller, Applehood & Motherpie.
For Goodness Taste offers many opportunities to experience the joy of your own special gatherings. Creative menus have been planned for a variety of occasions, ranging from intimate dinners for two, to tea parties for twenty-two. To help you set the stage each menu is followed by ideas for those extra-special touches that will transform the event into a joyous occasion.
Throughout our cookbook you'll find wonderful suggestions for serving many of the recipes. For Goodness Taste also provides recommendations for a number of delicious but reasonably priced wines to enhance your meals. These are wines that are widely distributed throughout the county. This valuable resource is provided separately in the Appendix.
So, whether you're a down-home, cost-conscious cook or a flamboyant gourmet chef, bring out the best in food, and the best in you…For Goodness Taste!